on
I'm trying out yet another challenge this week called Stamping 411. This was a very simple layout and I do love flowers. Now the sketch is not limited to just flowers so let your imagination soar!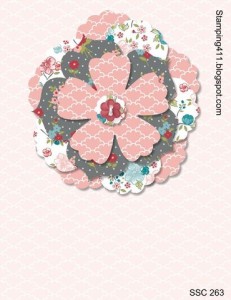 I stayed with using Stampin' Up' bright colors Daffodil Delight and Old olive. I really like the soft polka dots from the Brights designer paper. It made for a great flower.
The base is Daffodil Delight. I added another layer, Whispering White that I ran through the Big Shot using the Perfect Polka Dot folder. Before attaching it to the base I wrapped around the 1/2″ seam binding ribbon in Daffodil Delight.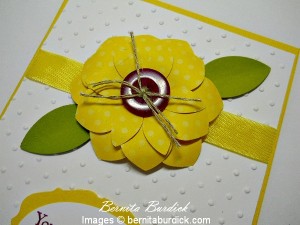 To create the flower and leaves I used the Blossom Petals Punch. This is so versatile and creates several  types of flower looks. For this flower I used the smallest and the next size up petal. I started with a 1″ circle. I used 12 of the larger petals and glued them in 2 layers of 6. Then I added 6 of the smallest petals and let it all dry thoroughly.
I took a Rich Razzleberry button from the Brights Button Collection and tied some linen thread through it. I glued it to the center with glue dots. The flower was added using dimentionals. I carefully tucked in the leaves with glue dots.
For the the sentiment frame I used the large oval punch for the center and Lots of Tag Sizzlits for the outside frame.
I hope you enjoyed this sample from the Stamping 411 challenge. I encourage you to try it yourself. Feel free to browse my site for more card making ideas
InJoy!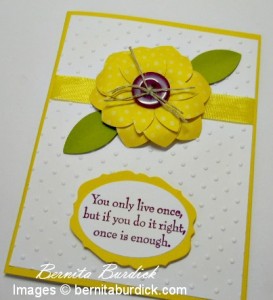 Click here to order Stampin' Up! Products online 24/7
Project Supplies:
Paper: Brights Designer series paper (117155), Daffodil Delight (124275), Old Olive (124284), Whispering White (124302)
Punches: Extra Large Oval (119859), Blossom Petals Punch (121808)
Die: Lots of Tags Sizzlits (114508)
Embossing Folder: Perfect Polka Dots (117335)
Die Cutting Machine: Big Shot (113439)
1/2″ Seam Binding ribbon Daffodil Delight (125583), Linen thread (104199), Brights Button Collection (119747)
Ink Pad: Rich Razzleberry (126950),